Gartner's hype cycle is a time-tested way for representing the maturity, adoption and social application of specific technologies. The hype cycle provides a graphical and conceptual presentation of the maturity of emerging technologies through five phases. As a Colorado resident and avid skier, I often think of the cycle like approaching and successfully navigating a new aggressive ski mountain for the first time on a new set of skis! It quickly reminds me that the run is not about the performance of the skis, rather how I maintain focus, balance and adapt to the terrain!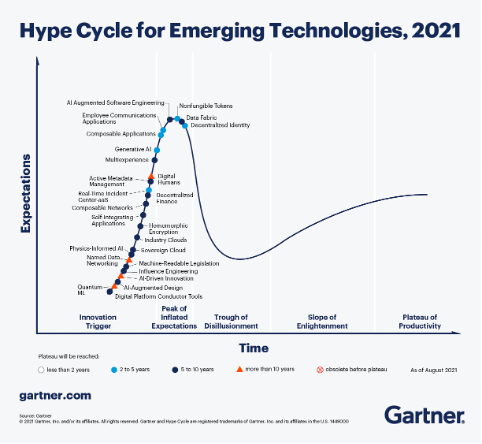 The 2021 hype cycle does not call out Decentralized Clinical Trial technologies individually, but one could argue DCT is in the broad category of "remote patient monitoring", which currently sits atop the curve at the "peak of exaggerated expectations" — facing a steep double black diamond slope ahead to the trough of disillusionment!
Having over two decades experience leading numerous healthcare technologies (for hospitals, life science companies, payor and patients) and as CEO of Validcare, a DCT platform as a service company, serving sponsors and CRO's, I have been through the hype cycle numerous times. So what can I offer industry (DCT companies, sponsors, CRO's and investigators) to survive the slope of disillusionment and reach the path of enlightenment avoiding the painful traverse?
Identify and quantify the business problem and hurdles you are trying to solve. Clinical trials are not just science — they are a critical part of product research & development impacting approvals and ultimately long-term revenue and patient lives. There are big, historical problems within clinical trials that can be solved with technology and workflow changes. As an executive sponsor or CRO you need to know, measure and focus on the value drivers in the R&D lifecycle. Pick one goal like patient centricity, make sure you have the right approach to it and demand constant improvement. Only then do you have the right to approach the mountain!
Understand the processes you look to change/automate and get buy in from those who own those processes. Most all innovation involves change and "moving someone's cheese". If patients, clinical operations professionals and investigators don't understand "what's in it for them" in adopting the new approach (personally or as a company), get ready for a nose dive into the trough of disillusionment! This starts at study design and carries through out successful execution of each visit, task and clinical measure. Documenting the new process and gaining buy in from everyone removes risk and friction allowing you to focus on the end goal; like avoiding bumping into your friends or being surprised by unmarked rocks and fissures in your path.
Celebrate and reward adoption of the new and improved methodologies. Separate of financial incentives or reimbursement, make sure to celebrate and recognize everyone involved in the study's success – soliciting and providing feedback to patients, clinical operations or investigators on how their action(s) or role contributed to a positive outcome in the scientific process. Everyone loves to tell and hear the story of a great "run". Success requires everyone to let go of the "old way" (cause there is #nogoingback). This helps each party feel a valued part of the team – and yes, PATIENTS are part of the clinical study team!
You may have noticed that the three suggestions above have nothing to do with technology – but everything to do with people, leadership, change management, and human nature!
With all my years of experience, we still hit some bumps and unseen obstacles on the slope of disillusionment. But we have successfully run numerous clinical studies and demonstrated the ability to cross the chasm to the "path of enlightenment" by establishing and measuring clear goals and rewards with clients like: increased patient diversity, time to patient enrollment and consent, ongoing patient engagement, reduced drop out rates, on time study completion and more.
If you are ready to scale a new peak in clinical studies, I hope this has been helpful and would welcome the opportunity to chart a new path with you and your team. To get in touch with me, please contact us.